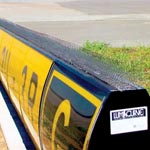 Premium Nixalite Bird Barriers
Premium Nixalite barrier spikes are proven effective in controlling all species of birds including pigeons, seagulls, sparrows and starlings. Premium Nixalite is proven effective under all bird or animal 'pressures' or levels of infestation.

Premium Nixalite Climbing Animal Barriers
Multiple row climbing barrier installations can prevent even the most determined climbing animals from getting past the installed Premium Nixalite barrier. Use to prevent squirrels, raccoons, cats, possum and other notable nuisance climbers from getting up trees, posts, columns, down spouts, etc.

Use Premium Nixalite To..
Repel all types of pest birds, in all levels of infestation, on nearly any surface.

Act as a barrier for climbing animals on all types of surfaces.

Reduce costly cleaning and maintenance caused by pest birds and animals.

Protect people, pets and livestock from the health hazards associated with pest bird and animal infestation.
Where Can Nixalite Be Installed?
Premium Nixalite Barriers have been successfully and effectively installed on an extensive list of objects and structures.
Objects:
Ledges, I-beams, lights, statues, parapets, louvers, gutters, roof & dormer peaks, air conditioners, pipes, chimneys, fences, cables, columns, dormers, satellite dishes, solar arrays, window sills, angle iron, eave brackets, rafters, joists, pediments, posts, signs, power poles, trees, birdhouses, exhaust vents, boats, billboards, awnings, shutters, skylights, roof tiles and shingles, cupolas, C-channel, trusses, expansion joints, grates, canopies, arches, keystones, squirrel guards, airport tarmac signs, radio equipment, swamp coolers, etc. Nearly any object where pest birds and animals can land, roost, nest or climb on.
Structures:
Nuclear plants, stadiums, homes, solar powered buoys, aircraft hangars, parking garages, historic structures and sites, post offices, airports, bridges, cooling towers, churches, restaurants, electrical substations, zoos, marinas, train depots, schools, retail stores, water treatment facilities, gazebos, pavilions, grain silos, hospitals, amusement parks, transmission and broadcast towers, dams, pump houses, manufacturing plants, shipping docks, museums, aquariums, etc. Nearly any structure where pest birds and animals can land, roost, nest or climb on or in.
Customers:
Army, Navy, Air Force, Marines, Coast Guard, Anheuser Busch, Veterans Administration, Boeing, Harvard University, GSA, AT&T, CP Rail, US Corp of Engineers, Deere & Co, FAA, MARTA, Smithsonian, TVA, US Park Service, Frito Lay, Kerr McGee, US Postal Service, Chevron, General Electric, Hewlett Packard, Marathon Oil, MBTA, BART, Target, Toys-R-Us, NY/NJ Port Authority, South Australia Parliament, TRW, UPS, GTE, Walgreens, K-Mart, McDonalds, BMW, Ford Motor Company, General Motors, IBM, Toyota, Camden Yards, The Helm House (Switzerland), Giants Stadium, ENDESA (Chile, S.A.), Scotland Parliament, etc.