Adhesive Fastening for Nixalite® Strips
Nixalite recommends using the supplied mechanical mounting hardware wherever possible.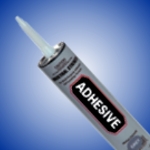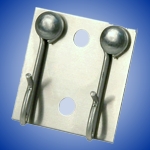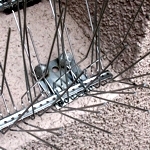 Consider Adhesive Fastening ONLY IF...
the surface conditions do not allow the use of the supplied mounting hardware. Please remember that adhesives can not be considered permanent. All adhesives, for one reason or another, will eventually deteriorate and fail. Mechanical fasteners (especially the hardware supplied at no charge with the Premium Nixalite) will securely hold the Nixalite strips as long as the installation surface remains in good shape.
Whenever and wherever possible, use the mechanical fasteners supplied with the Nixalite or purchased for our other bird spike models. BEFORE YOU BEGIN: read, understand and follow the adhesive manufacturer's printed information regarding surface restrictions (some adhesives can melt or damage certain materials), surface preparation and application instructions.
Adhesive Fastening Options
Nixalite offers two methods of fastening the Nixalite strips with adhesive.
Glue Clips and Adhesive
If adhesive must be used, this is the method we recommend. The Glue Clips allow for Nixalite strip removal and re-installation without damaging the adhesive bond, the strip or the installation surface. Click on the link below to download the illustrated Glue Clip Installation Instructions. This document will help you determine how many Glue Clips are needed, how far apart they are spaced and how to install them. If you have any questions, please Contact Nixalite.

Glue Clip & Adhesive Instructions (PDF)

Non-removable direct-to-surface adhesive fastening
This is not recommended, but is possible if necessary. This method fastens the Nixalite strips directly to the surface. The Nixalite can not be removed without damaging the strips.Click on the link below to download the illustrated Non-removable method. Please remember that this IS NOT the recommended method of application. If you have any questions, please Contact Nixalite.
Non-removable Adhesive Instructions (PDF)

Wire Tie and Adhesive is not considered to be an adhesive fastening method (it relies mainly on the stainless steel wire ties for support).
For more info, go to Hardware Installation or load the Wire Tie and Adhesive Installation Instructions.
Where to go from here..
If you have successfully installed the Nixalite with adhesive, go to the Installing The Nixalite Strips page to complete your installation.
Installing with a custom form? Refer directly to the installation documents that were provided with these items.